Ghillie, Bearded Collie and later life health problems with either Hemangioma or Hemangiosarcoma and Kidney failure.
On Bank Holiday Monday August 28th 2006, Ghillie who having been in fine health the day before and ready to take on anything, did not want to get up, but just carried on lying down as if he was having a leisurely lie in. The major clue that he was not quite right was that he did not want his bonio. We left him for a couple of hours and he still did not want to get up, I stroked him and he whimpered in pain. We called the vets and there was someone at the surgery dealing with another emergency, so we were able to take him down for examination.
So often when ones dog gives one a scare, they seem to miraculously revive as they arrive at the vets. Ghillie actually collapsed in a heap halfway across the entrance to the vet, so there was definitely something seriously wrong with him. He was give an ultrascan exactly like pregnant human mothers to be have. It was evident that there was a large spherical shape which did not belong, and also dark areas which indicate the presence of fluid - blood. It being a bank holiday he was given some bolstering steroids and he was to come back the following day for further tests.
We took him home and he just lay quietly for about 3 hours. I thought that this was going to be his last ever photo at the time.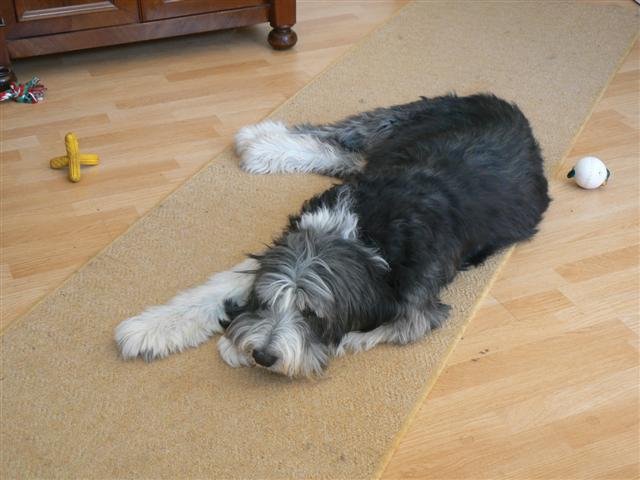 Then he suddenly got up and fell back down again, his eyes were open and glazed, and his tongue was lolling. I really thought that he had either just dies and the heart was ticking along for a little longer before it stopped, or that he was in the process of dying in my arms. We called vets and again we were fortunate that someone was there on this holiday. We took him down using his bed as a stretcher. The decision was made to operate immediately and additional vetinary staff were called in. The plan was that if the tumour was on his liver that he would be allowed to die while still under anaesthetic.
We went home and waited anxiously for news, and about 2 hours later we were contacted to say that so far he was OK. He had a tumour the size of an orange and also his spleen removed. We got him home three days later very much the worse for wear, his tummy looked as though it had had terrible kicking from the bruising caused during the operation. He was clearly very sore and very stiff, it was so difficult to either get up or lie down.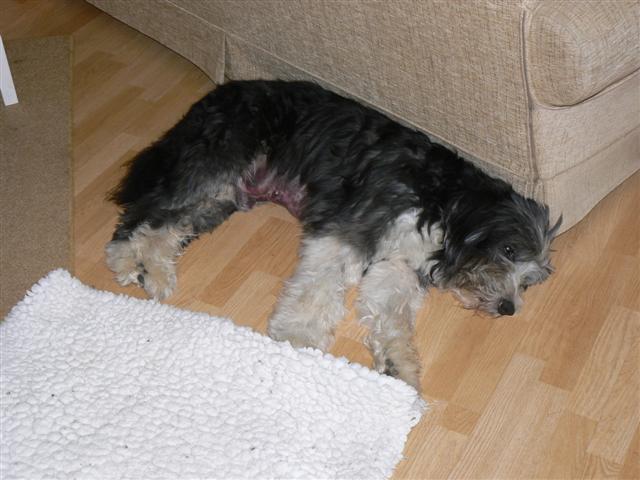 Three days later he was feeling more comfortable.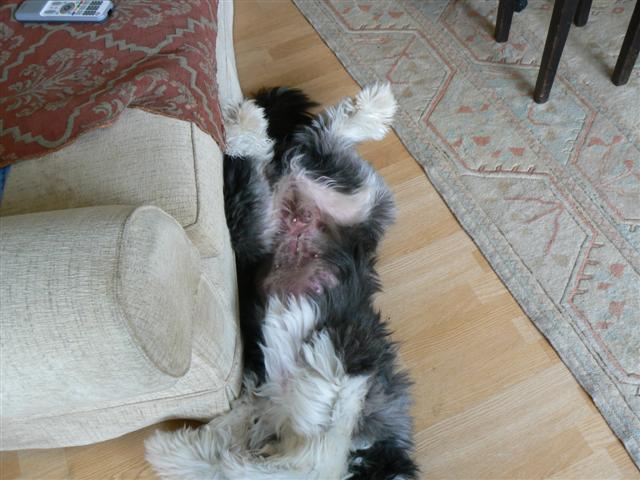 Having overcome the initial mechanical health problems by surgery, the next issue was what is the prognosis for the future. Clearly he had suffered from Hemangioma or Hemangiosarcoma. The first is a non malignant tumour and should be just a one off. Hemangiosarcoma is more serious as if that was the problem the he will also have the same cancer in the liver and in the heart. If that is the case then he will not survive more than 3 months.
Well it is just about 3 months now and Ghillie has more or less recovered very well. He is 5 kilos lighter and remains stably at 27kg. The main downside is that his kidneys have malfunctioned, whether as a result of the Hemangio or because of the surgery and general anaesthetic we do not know. He is having a monthly injection of steroids to bolster him and some kidney pills. He seems very well in himself, apart from the kidney issue has made his appetite very fussy. What he loves one day is poison the next, so it takes patience to feed him successfully and of course he cannot help it. At one time one could say that if went off all food he would survive on bonios and spiller shapes, but even these he never touches now. The vet seems to think that it is another feature of kidney failure which is something called "rubber jaw" where the teeth become loose and uncomfortable, so hard foods are not pleasant for him to crunch up. Having said that it did not stop him the other day with a new toy (ball with a rope) wrapping it somehow around my hand and pulling me on the floor I was asleep on the sofa at the time! His water intake is not excessive and his urinary functions are still working ok. The forecast for his lifespan with this kidney failure is no longer than 12 months.
The following pictures taken since his surgery show that he still does have a quality of life. The doubts we had as to whether we should have let him be put down at that time have been completely allayed.
He is nearly 13 years old.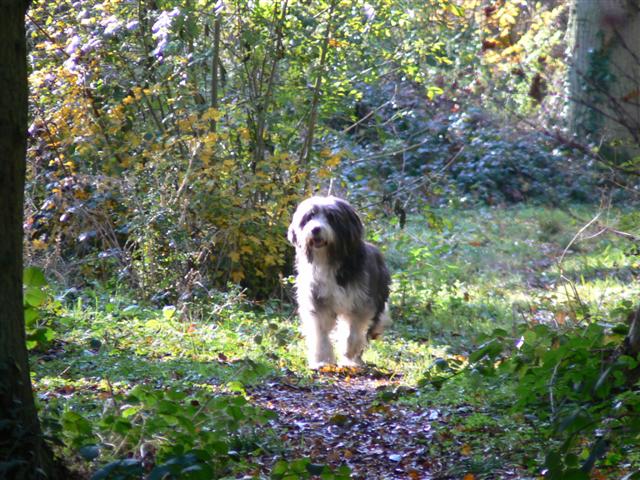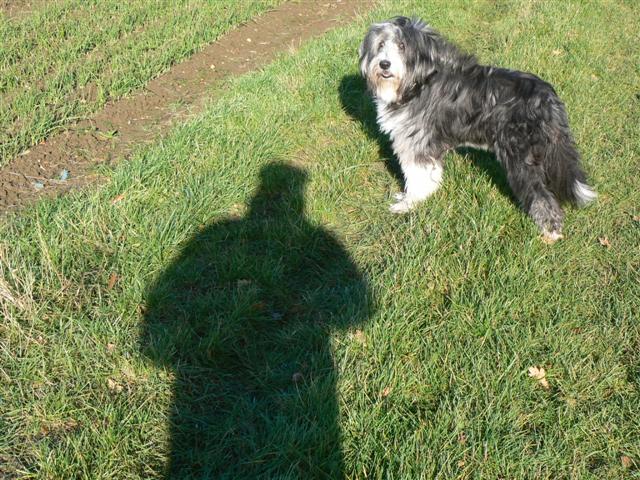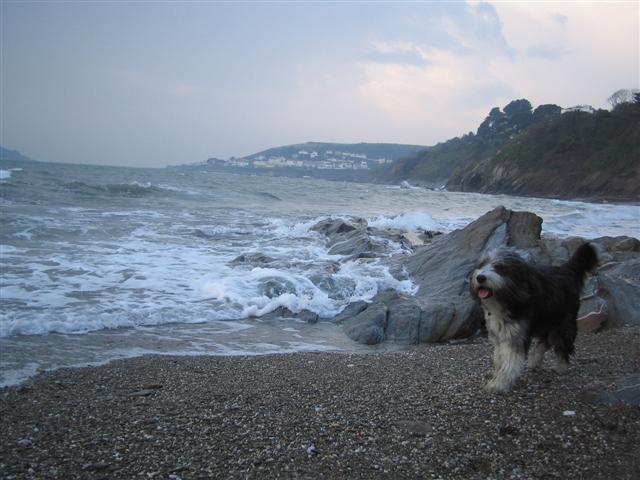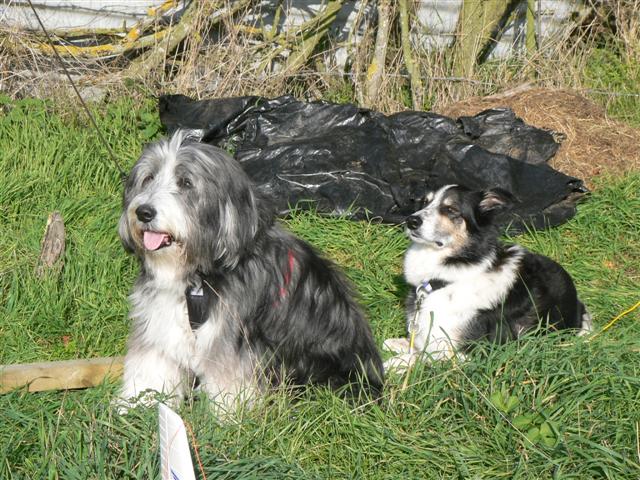 Niki and I would like to give a huge thank you to Rebecca at the Stocks Vetinary Centre in Upton upon Severn, her skills as a surgeon and healer undoubtedly saved Ghillie's life and restored him back to us.
21st January on Ripple Common.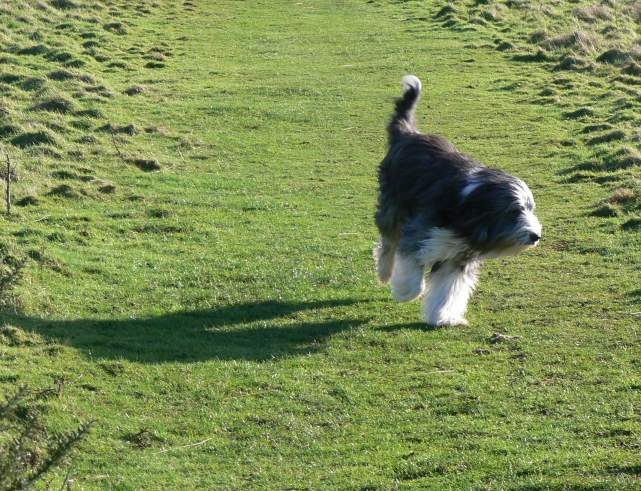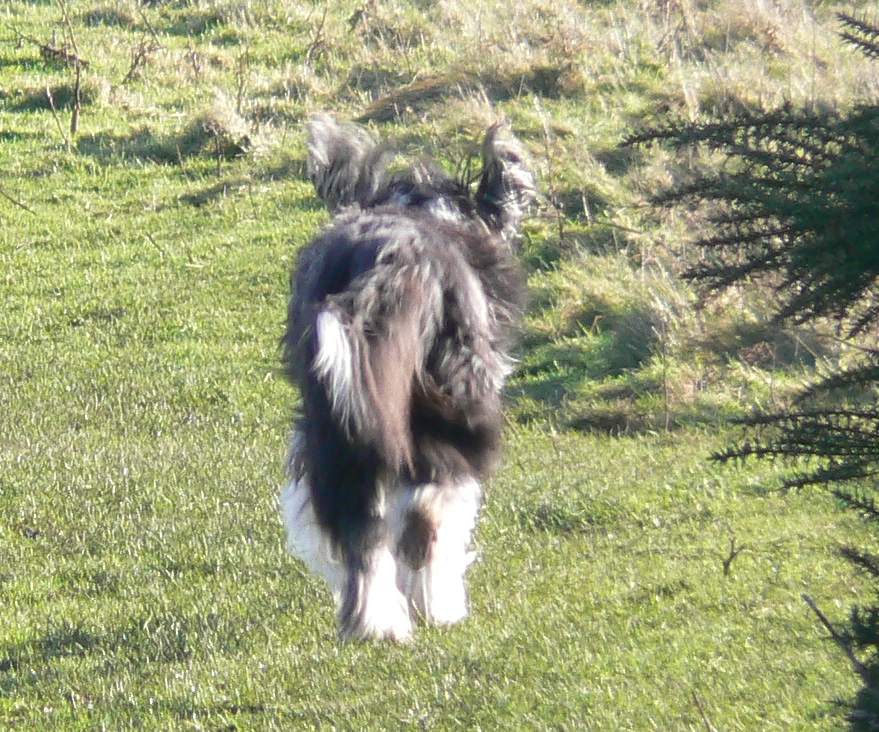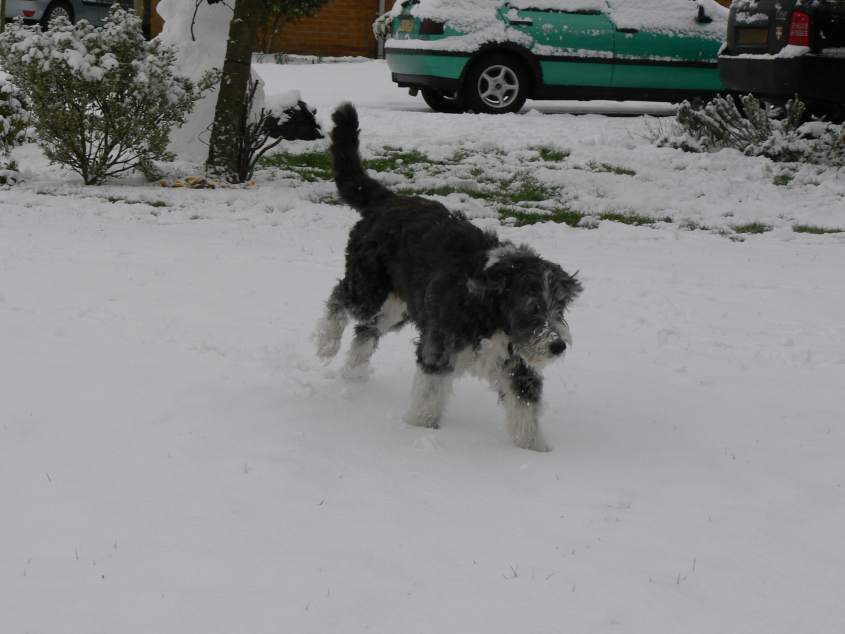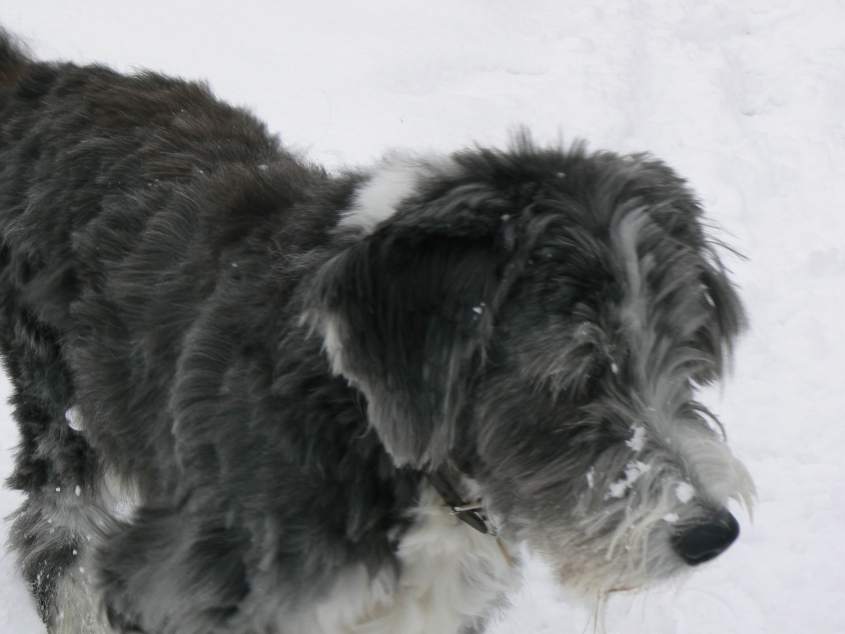 February 20th and Ghillie is still with us, he enjoys life, does not seem to have any pain. He is now 13!! However he continues to lose weight each month, in the last 4 weeks he has lost 1.5kg he now weighs 21kg, he has now lost one third of his body mass. His appetite is picky but he does enjoy a roast beef dinner with all the trimmings. What he likes one day is disgusting to him the next day. It helps not to mix his food up but leave it in separate portions in his bowl, so he can choose what he does like and at least will eat something. Purple sprouting, cauliflower, broccoli all go down well, carrots are so so. Bespoke dog food is right out the door, he would starve rather than eat.
July and the sands of time are running out, weight is not 19.5kg and if it was not for his hairy coat he would look really thin. However he still woofs at me to take him out, even if he can only walk for 300 yards now before running out if energy. Pub trips still suit him.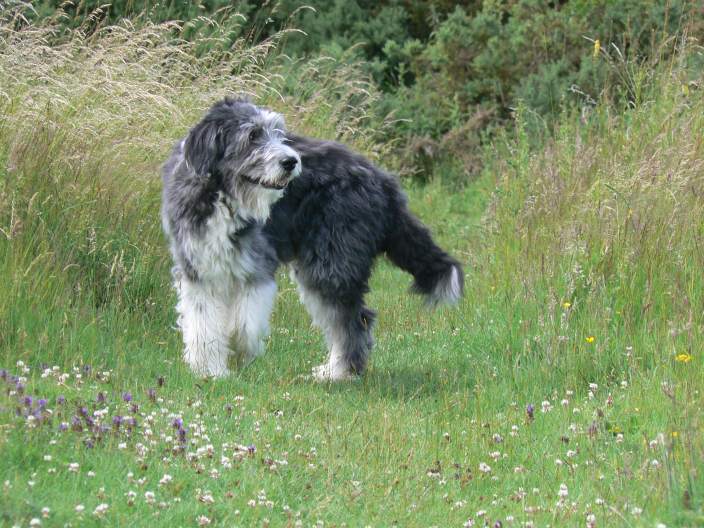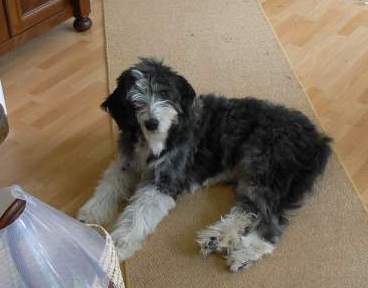 July 20th 2007 Ghillie finally lost his battle with life. He had not been eating properly for a few days, but did finish off his last meal of sausage and chips. On this morning he got up about 05:30 and moved around the house then shortly after, his legs gave way and he never managed to get up again. The vet was called to give him a final dignity. He will be cremated and the ashes will be placed next to Mothydog's in our garden.
This page was last updated on 20th July 2007