Engine no: CA51486
Body no: F6807
I purchased this car as a satisfactory replacement for my MGB Tourer which just felt a bit too modern for my needs, especially when compared with my Singer Le Mans.
Originally built in East Windsor (Walkerville), Ontario in September/October 1928. It is believed the car was exported to New Zealand, and first registered in April 1929. In the 1980s was purchased as a barn find, where it was restored at Christchurch. There is some history of its use in the Christchurch area, and then it was exported to the UK in 1994, where it became part of a private collection. In 2006 it was sold at auction and put into store and not used since.
Since 1994 the car has travelled under its own power, a grand total of 136 miles. So a bit of recommission maintenance has to be carried out. Tyres, battery, servicing, plugs, condenser, cooling flush (still ongoing, as the sludge keeps coming), clean carb, check and time distributor. Compression test with engine cold and dry 60, 55, 60, 60. not too much to worry about there, will repeat this week with warm engine.
The Ford went through its first MOT for 12 years with just 2 advisories on the rear wheel bearings, which turned out to be loose halfshaft nuts which hold the hub on. I was concerned about the first driving trip to the MOT. How would I cope with a crash gearbox going up the hill on the main road from my house. How was I going to manage the centre throttle and right hand brake pedal? It turned out just fine. Gear changes need to be taken steadily with declutching and it just works. The centre throttle being much lower down on the floor compared to the clutch and brake just makes the whole setup automatically feel different, and normal.
The following information came with the car. Its previous history is still being researched. I am in contact now with the previous owner and he has provide me with scanned pictures of its restoration and some other history.

I have sent you 5 photos of the Model A from 1993. The email resolution is not good but at least you will get an idea of how the car looked like when I got it and how it was restored. The other two photos are when we were leaving to drive over the alpine pass to Westport (on the West Coast) and the car sitting outside our family home. The journey over the pass (210 miles) took about 5 hours and I recall leaving the Ford in top gear all the way.
Restoration
In New Zealand
Ford Model A 1928 Tudor
Specification
2 door sedan
4 wheel rod actuated brakes
Accelerator pedal is the middle pedal
3300 cc side valve engine developing 40 bhp
Cylinder compression ratio 4.5:1
Electric starter
3 speed crash gearbox, no synchromesh
Houdaille shock absorbers
Water pump
10 gallon tank
Performance
Top speed 62 mph
Gas 24mpg at 40mph, 16mpg round town….
40 BHP at 2,000 RPM, 130 ft-lb torque at 1,300 RPM
Ascended Fish Hill near Broadway in top gear all the way
Restoration details
Full ground up restoration completed Nov 1993
New woodwork
Reconditioned brakes. Shock absorbers. engine, gearbox, rear axle, steering gear.
steering box, water pump. radiator.
New interior
New wiring looms
chassis and spring shackles.
Originality
Built in Ontario, Canada Sep/Oct 1928
First registered in New Zealand April 1929
Painted in Original factory colours Dawn grey and Gunmetal Blue.
Dulon lacquer.
Original panels, lights, lenses and horn ( not reproductions )
Original type woollen cloth (blue-grey hairline ) interior and trim. (USA)
Upholstery by George Lee (Christchurch)
Original carburettor (Zenith) and distributor
Original instruments.
This car travelled approx 1600 miles since NOV 1993 in New Zealand on various VCC rallies, including a 600 mile trouble free run from Christchurch over the alpine pass to Westport on the West Coast and return.
Imported to the UK in 1994 and until April 2012 had travelled only 136 miles.
Here is an article I wrote for The Quail, Ford Model A club magazine
----
Here is the second trip, another pub, The Old Bush, Callow End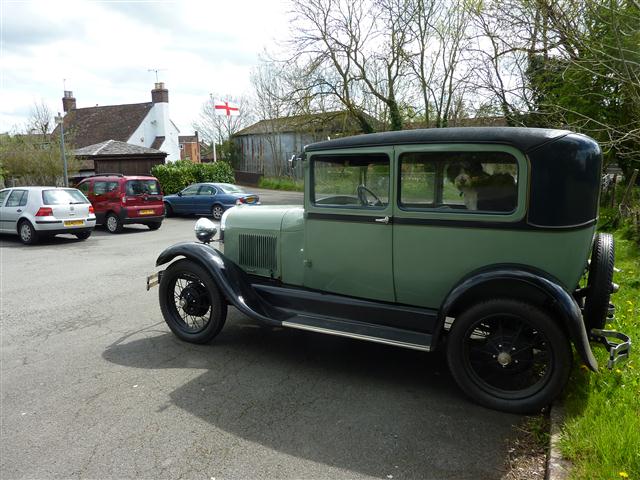 And The Old Hills, Callow End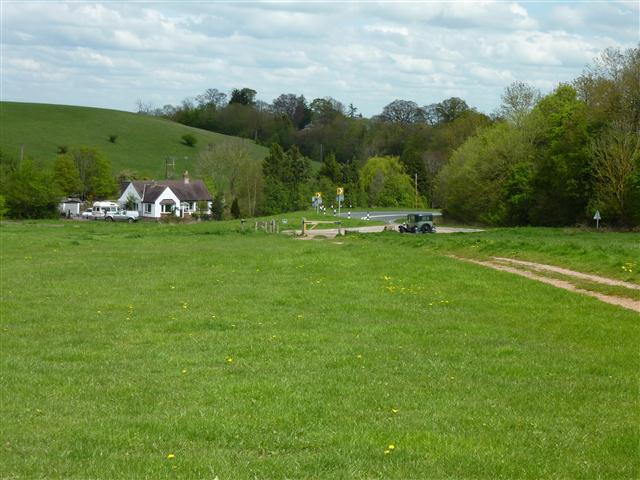 This is the first trip, naturally visiting 3 pubs....
Here with Howard, the previous UK owner at the Drum and Monkey, Newbridge Green.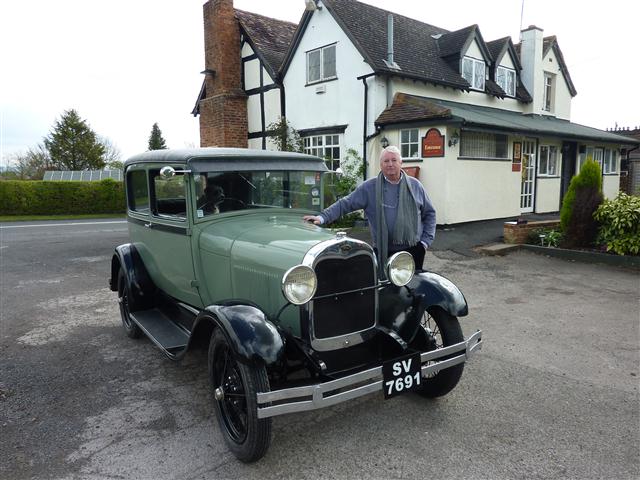 At the Duke of York, Berrow with Rob (has the TR3a) and Tilly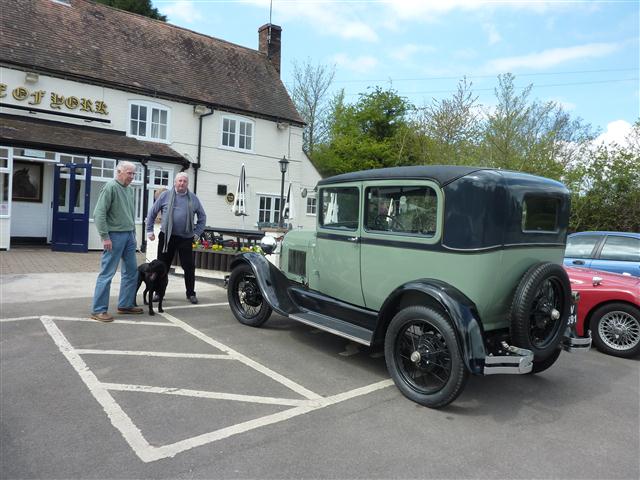 At the The Oak, Defford.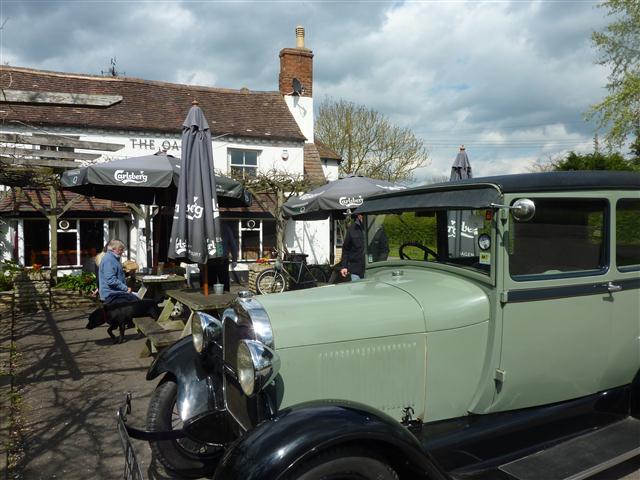 Car went well during this trip, apart from the speedo ceasing to function. The following day I removed the speedo head to discover it was siezed and naturally the cable had snapped. The speedo is all cleaned up and working well, with new cable installed.
September 2012 and using it for the wedding of my nephew Jamie and his wife Katie.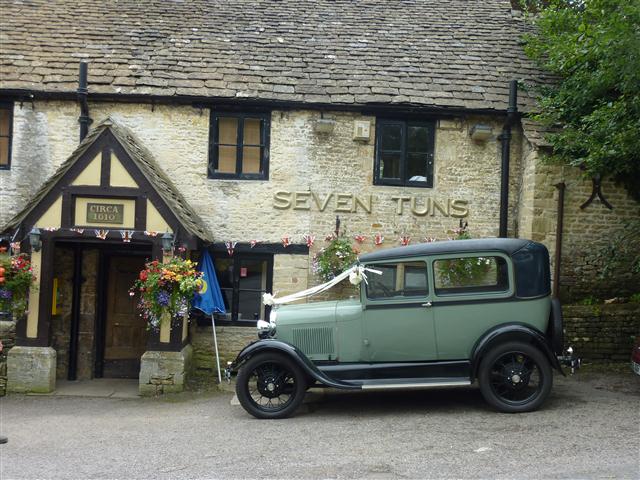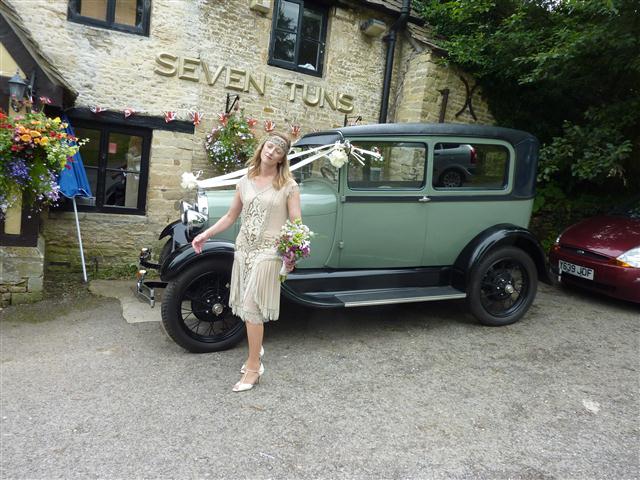 April 2012. Here is the car at home and cleaned up.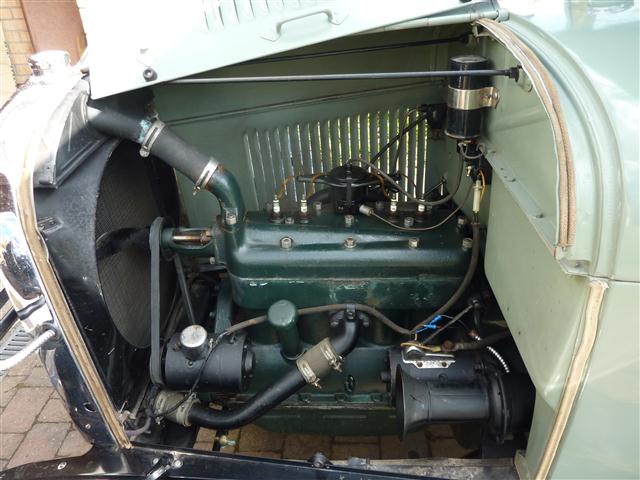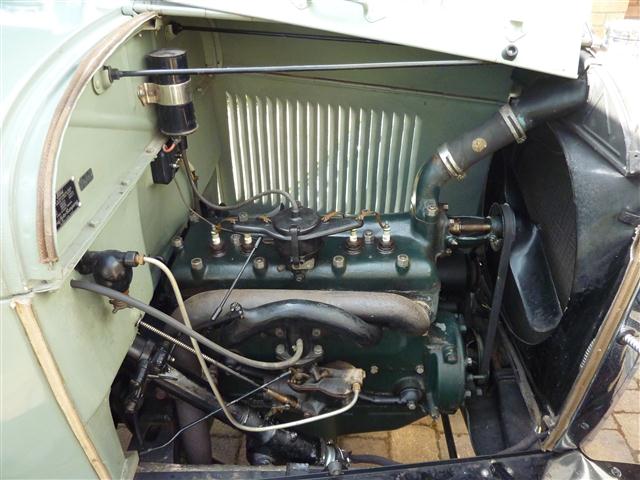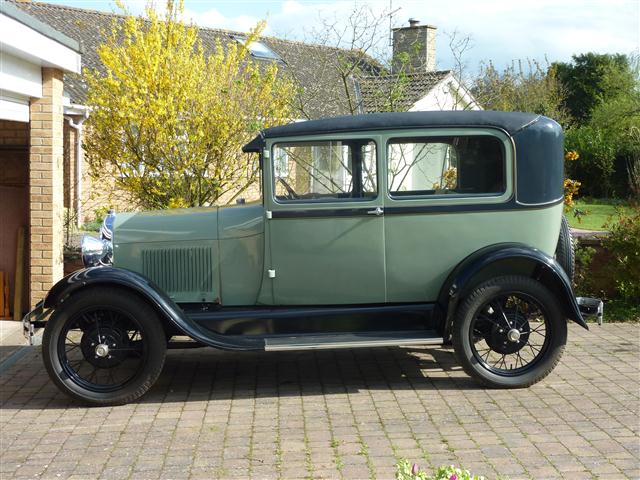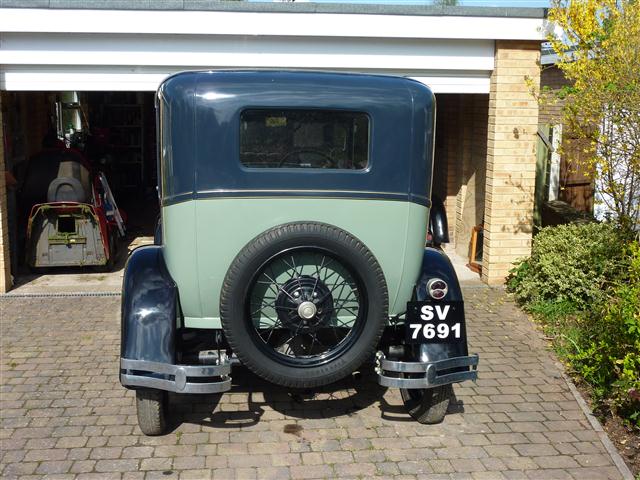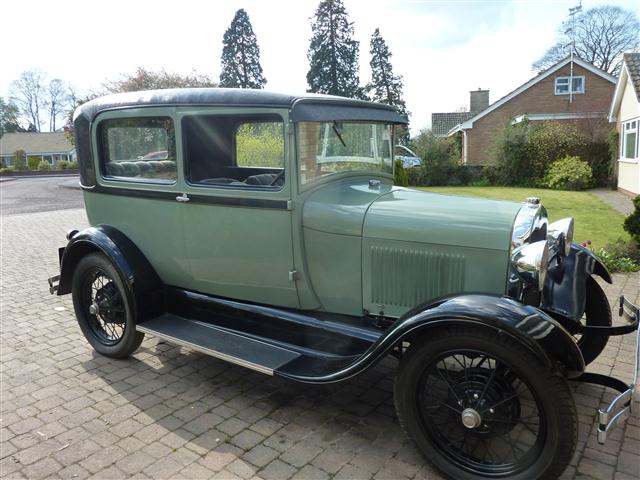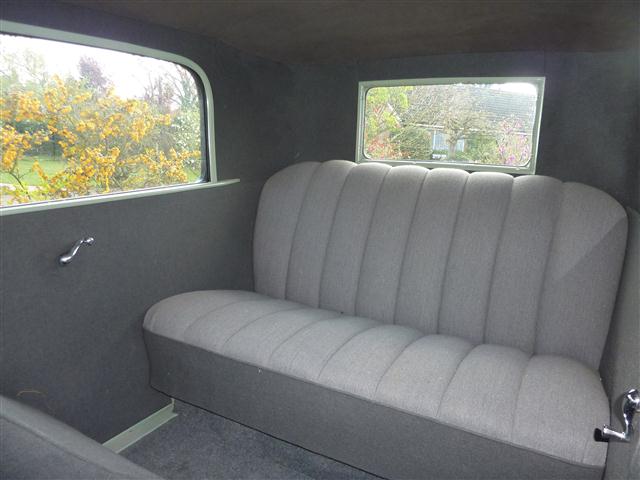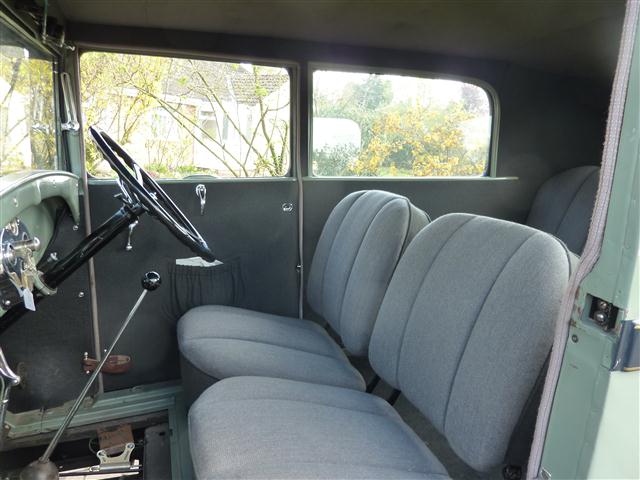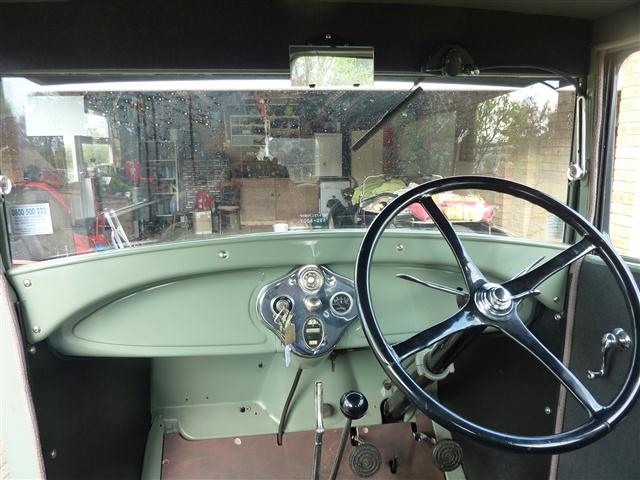 Recovering the Ford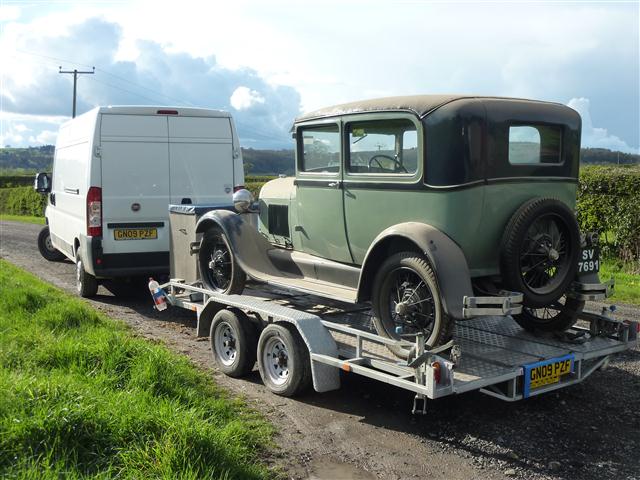 This picture shows how it was in in storage. I recovered the car April 11th 2012.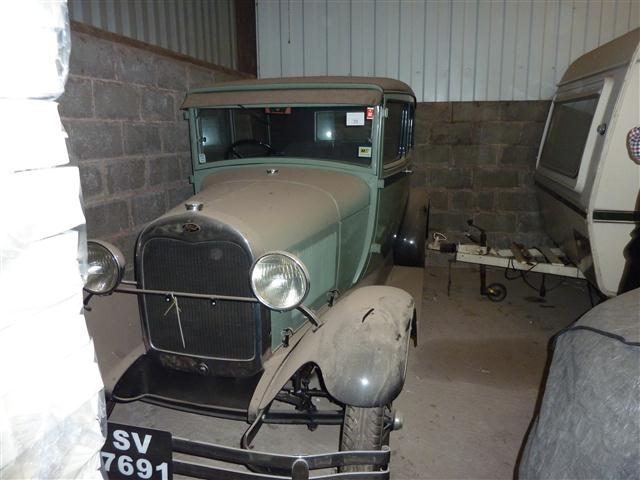 This is a 1929 Nash 6 Sedan which I would have bought if the Ford was not available. Both cars had been together for 20 years or more. The Ford is more of a practical proposition for spares and expertise, there are many of them around. Not so many Nash cars....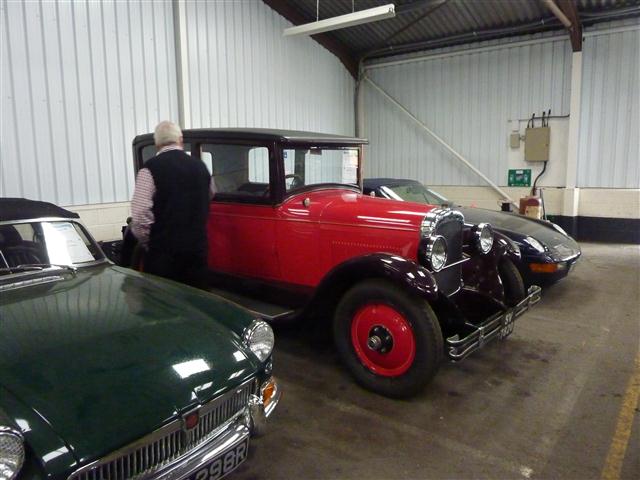 This page updated January 26, 2018