1925 Trojan Utility
Has moved on to pastures new.....
Reg no: BT8799
Chassis no: 7147
Engine no: 1852
First registered 09/08/1925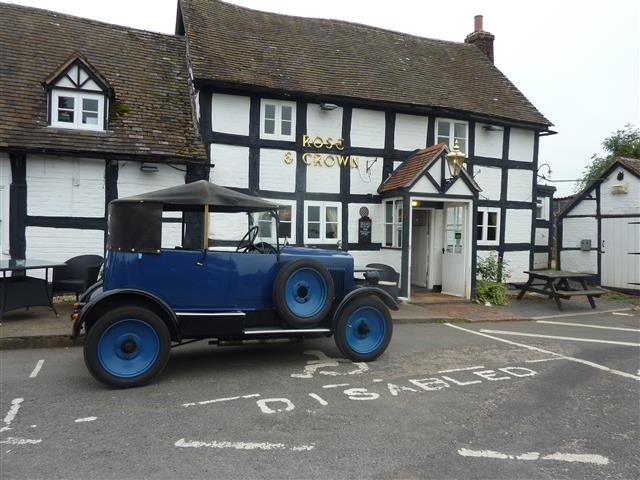 From the advert
Trojan utility 1925 4 seater open tourer 4 cylinder two stroke 1500cc.
The car was first registered in hull in 1925 to a Major Cardwell and then used by his wife back in Worcester until the late 1930s, comes with some nice period pictures of the car in the 1920s and 1930s.
later in its life the car was owned by the author of the Trojan book Eric Rance (can you afford to walk) who had the car for almost 40 years.
The car is an older restoration but is in good running order.
The car has its original reg number and full history from new.
it also comes with full weather gear inc side screens
The car is running on normal road tyres but comes with its original solid tyre rims.
These cars are very quirky and very interesting to own but are not for anyone who does not know much about them.
----
From the file of history I received with the car I can expand this a little.
The first owner, Major Cardwell. came from Blackmore Ponds, Hanley Swan, near Malvern (only a few miles from where I live).
Some time later the Hon James Wallace, from Napleton near Kempsey (even nearer me), had the car and knew of Major Cardwell, who also owned a Sunbeam. This gentleman I already knew as he owns an Austin Seven Chummy, he is now known as Jim Dudley. Bill Boddy expressed an interest in buying the car and came down to see it at Kempsey. He must have thought that were other Trojan in better condition to buy... Jim passed the car onto Mr Getley in 1958
There is a letter from a J A C Getley confirming that he once owned the car, and sold to A Mr Borg (1959 I think). Apparently the car was rescued from a barn near Malvern and had a lot of straw and feathers in it. He sold the car in 1960 for £35.
In 1965 a Mr R C Howard bought the car, from a syndicate of 6 people who had taken the car apart and shared the bits around to take away for refurbishment. It took Mr Howard some time to round up all the sections of the car.
At the end of 1965 Eric Rance bought the car and kept of for 38 years.
I found his advert for when he sold the car in 2002.
If you can't afford to walk, why not converse with pedestrians while you drive? 1925 Trojan Utility. Well known original car for sale, due to illness. Present owner 38 inexplicable years. Complete with trailer, winch and tow-rope. Ideal vehicle for lethargic masochist. Many rare period accessories. New battery and pneumatics (sheer luxury). Host of spares, including engine transmission and set of solid tyred wheels (sheer purgatory). Knows it's own way to Malvern. Not hacked about. £6,500.
From the book "Can you afford to walk" that Eric Rance and Don Williams penned I find this statement.
Robert Buttle, an Alvis owner and long time stalwart of the Yorkshire section of the VSCC, once observed: "Eric Rance is known in our area as the man with the Trojan. Even if he were to buy aVauxhall 30/98, he would still be known as the man with the Trojan." So there is no escape.
After that, it was owned by Bob Adams, who wrote many technical articles about the marque.
Bruce Young commented to me "Notice how the Trojan anticipates the hill and slows down before the incline is met."
Here is list of known work - tba
The Car Various pictures
Out and About - various events and trips
History Pictures Pictures from the past
Article submitted to Trojan Owners Club Newsletter
Video clip of driving the car to Brightwells Action House in Leominster
Another Video Clip demonstrating the car can reach 30 MPH.
November 7, 2023